Get it now on
Kickstarter
there you can find a special offer.
In few minutes with the raspiPRENDE HAT (HAT=Hardware Attached on Top) is achieved operate and program the inputs/outputs (I/O) more common in Electronics. It's perfect if you want to learn how to handle LEDs, buttons sensors and basic electronics without the use of wires (there is nothing to assemble or solder).
Why have different boards that add functionalities separately? raspiPRENDE includes everything and is as easy to use as Plug and Learn. All basics tutorial examples are available on board directly: LED, button, analog and PWM.
There is much much more things: Visit this project frequently: we will post new characteristics each few days so keep in touch.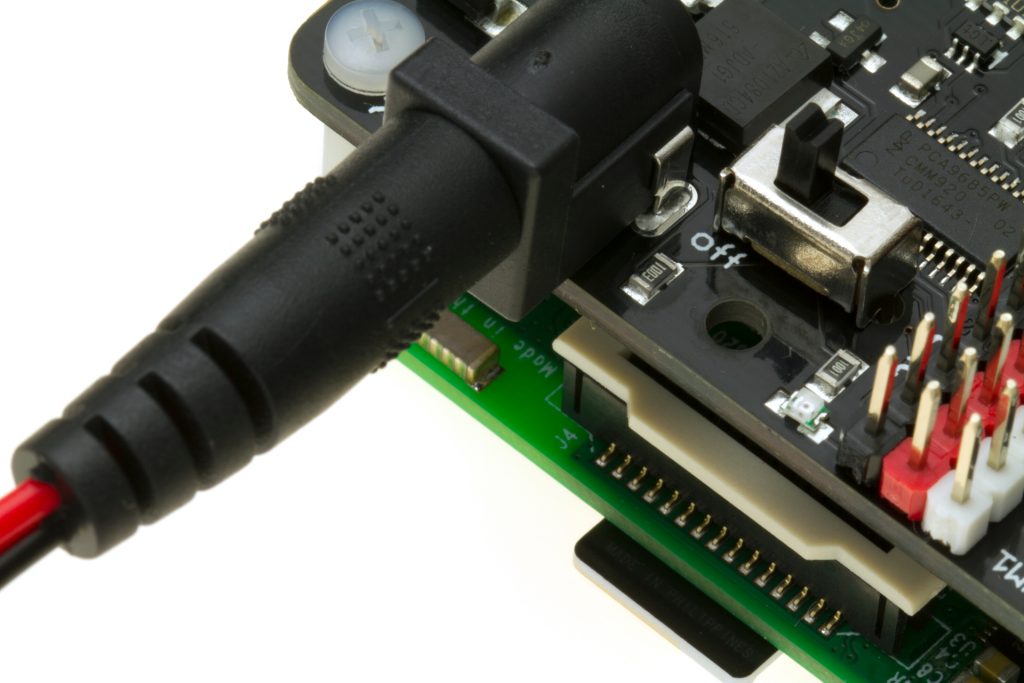 Real power-off circuitry: with a physical switch to cut the power. No longer be necessary to remove the USB to power your Raspberry.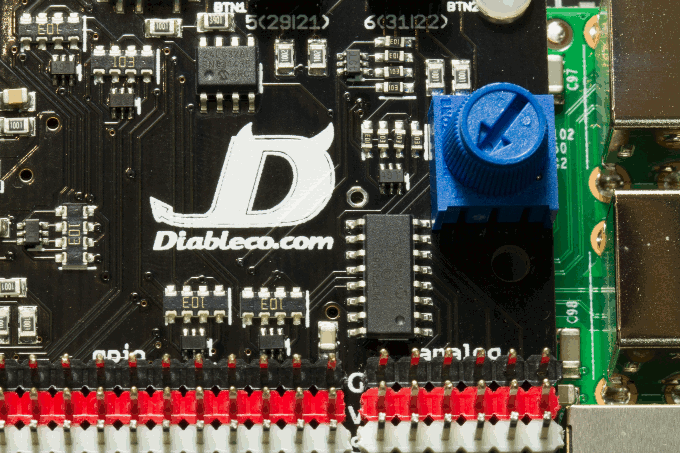 6 Analog ports: it adds this essential characteristic on any electronics project. It also include an extra port with a potentiometer to test this feature without wire anything. It have a resolution of 10bit.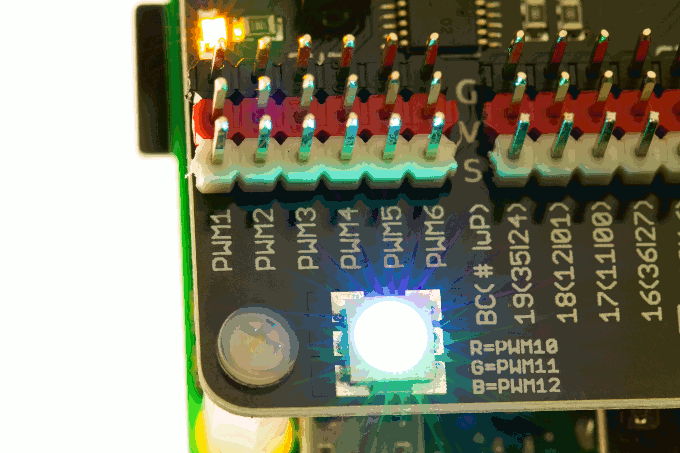 6 PWM ports: now you can move servos, tinking lights and move your robot. It also include a RGB LED witch use 3 more PWM to test this feature without wire anything.
UART, SPI, I²C and the extra ports: all of them work at 5 Volts so you can use any Arduino board or addon directly without risking your Raspberry.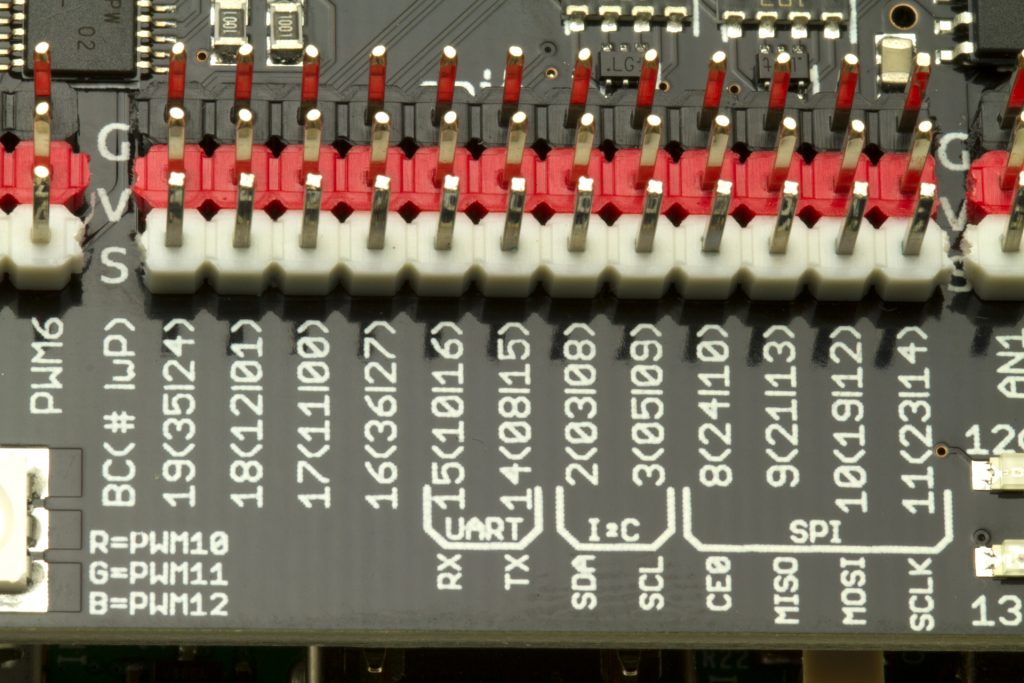 Printed help: You don't need a table to know which PIN are you using because all GPIO are identified with the 3 common nomenclatures in the order of use Broadcom, physical pin and wiringPi.
Power your cordless robot: The raspiPRENDE can be powered with an external source, recommended voltage between 8 and 11V with a maximum of 2 Amps.
EEPROM for Advanced users: learn how to make a custom HAT with the writable EEPROM.
Why Kickstarter?
We have an old version of this board without PWM and it was needed to wire when attaching new sensors. So with our recent launch of "Furacos" platform we want to update our raspiPRENDE.
Here on Kickstarter you can obtain a big discount when a kit is chosen.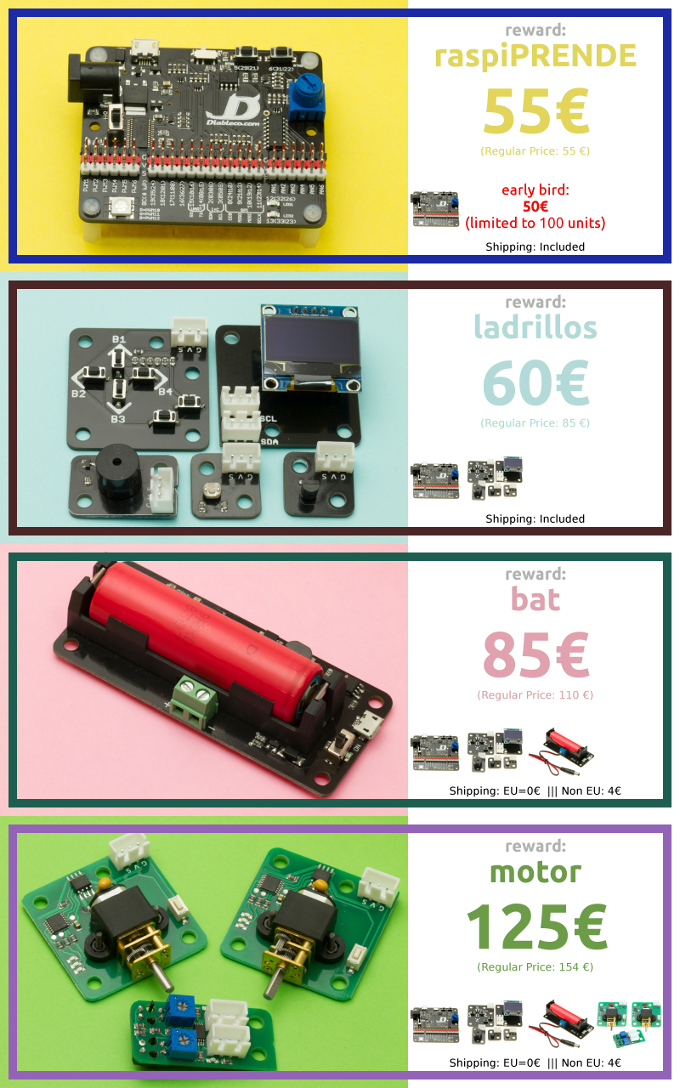 Do you want to help us?
Technical Specifications:
A board that connect on top of your Raspberry to tinker electronics things with the included:
Plug and use: no wires to start using it.
Physical switch to power off the Raspberry without unplug the USB.
All ports work at 5V like Arduino environment.
2x LED on board as an example of digital OUTPUT.
2x Button on board as an example of digital INPUT.
1x Potentiometer as an example of ANALOG ports.
1x RGB LED as an example of PWM ports.
DC input to make a wireless projects like robots (maximum recommended: 11V and 2Amp).
Description of the rewards:
They are an advanced example of one characteristic on raspiPRENDE HAT: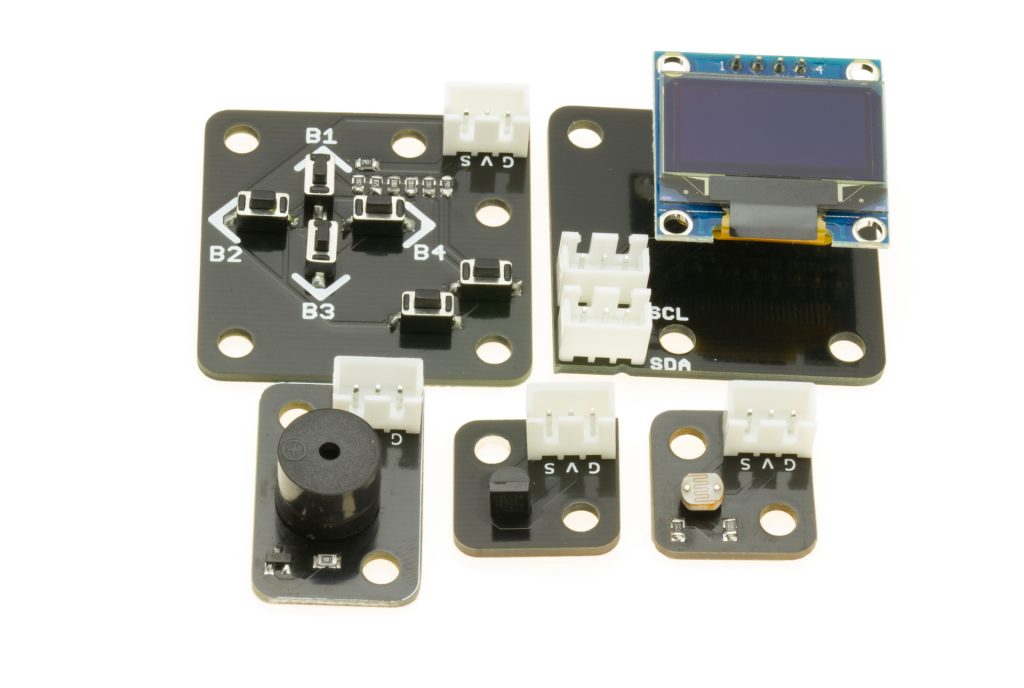 Analog keyboard: With a single signal you will to read what of the 6 buttons was pressed, an example of analog port.
OLED display: It have a resolution of 128x64px in a single color is an example of I²C port.
Buzzer: It can be powered with a PWM signal or a digital pin, turn your Raspberry an old school computer with whistles.
LDR: From now your Raspberry will see if lights are on with this analog sensor.
Temperature sensor: You can know the room temperature with this One Wire port example.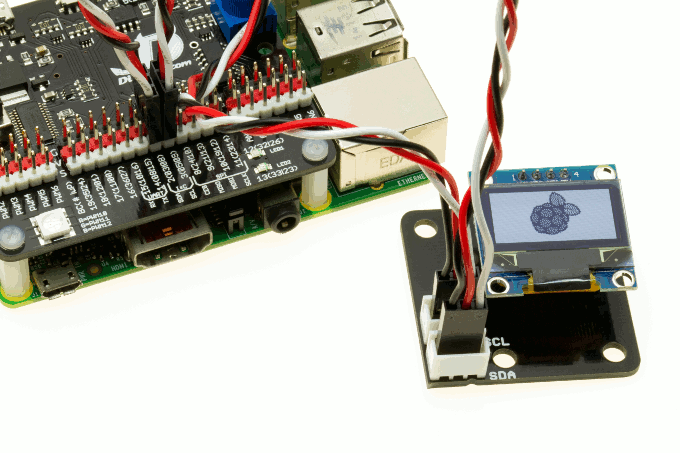 The battery and motor are from our platform called "Furacos".
Battery output are 7.5V and is charged with a simple USB port wire (included).
The Line Follower is a dual sensor "ladrillo" that can follow a line done with any common 1.9cm black insulating tape.
There is 2 motors, they only use a single signal because do they work as a continuous rotation servo, there is a button to choose the velocity (4 available) and it have LEDs to show what velocity is chosen.