Caparrucia is a little robot based on Arduino. Easy to assemble and easy to extend its possibilities (is compatible with our Furacos platform).
Robot
Is really easy to assemble: only a screw driver is needed. All mechanical parts are included.
When Caparrucia is assembled all physical elements are accesible: the power switch, RGB, reset button and USB port. There is also printed help with all Arduino PINs used.
The robot have 2 sensor that reads the floor so it can follow a line made with any common 1.9cm black insulating tape.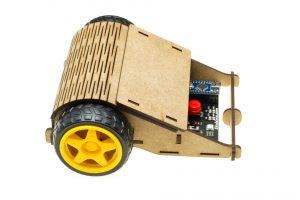 ---
Did you know that all Furacos Ladrillos work with this board? Explore the full range of Furacos platform.
Help and documentation
Complete tutorial of Caparrucia [Spanish]
Assembling the Caparrucia Robot {Provisionally only in Spanish}
Programming the Caparrucia Robot {Provisionally only in Spanish}
CaparruciaBot Contents
Electronic board
Arduino Nano compatible
2x Motors
2x Wheels
Wood pieces
Battery holder
DC Wire
USB wire