Sample of our training experience is that a good part of our products marketed under our brand are geared to teaching electronics.
Our presentational courses are mainly oriented to SME and educational institutions to train new educators in Electronics.
Additionally we have a page with free tutorials on electronics:
This tutorial webpage uses our products as examples but it contains generic information about Programming and Electronics.
Custom and unique products for education
Our main products oriented to education are designed by us.
If your academy, campus or educational institution want to provide a personalized product contact us: some of our products can have a custom logo.
Click on images to see full product data: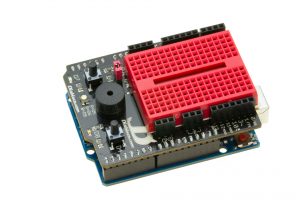 ArduPRENDE
An Arduino SHIELD with most common Electronics components.
Main platform: Arduino.
Skills: C-lang, Arduino, Complex Electronics.
Custom logo: Yes, even for small orders.
Price range: Low.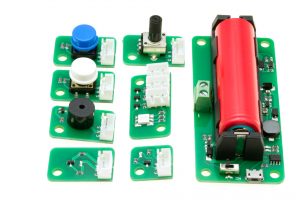 Furacos
Platform oriented to the teaching of STEM disciplines.
Main platform: Arduino/Raspberry.
Skills: C-lang (Arduino), Python (Raspberry), Electronics.
Custom logo: Limited availability.
Price range: from Medium to High (customizable).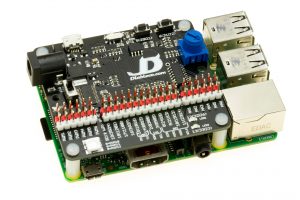 raspiPRENDE
HAT for Raspberry Pi that adds analog, PWM ports and all of them work at 5V (making it compatible with Arduino devices).
Main platform: Raspberry Pi.
Skills: Python, Bash, Linux, Electronics.
Custom logo: Only for large orders.
Price range: High.
If you want any product with your logo go to our contact form and explain your needs.